VIEW or PURCHASE
n.paradoxa volumes
SEARCH ARTICLES
by country, author, title
or full text
FIND
resources and links in the Feminist Art Observatory

DISCOVER
n.paradoxa's new MOOC
(a mass open online course). The 10 lessons of this course on feminism and contemporary art are free. Do the lessons at your own pace, anytime. Register and join.
PURCHASE
print volumes




This site uses cookies
COOKIE POLICY
READ
n.paradoxa online archive
or RIP-OFF.2
or n.paradoxa's Guide to Feminist Art, Art History and Criticism
or n.paradoxa's feminist art salons
WATCH

feminist art seminars
n.paradoxa/ICA (2011)
Local/Global Conference 2017
JOIN the JISC email list on Feminism, Art, Local/Global Research

RECOMMEND n.paradoxa for purchase to your University library

DOWNLOAD a poster for your noticeboard

VIEW
n.paradoxa's blog

nparadoxa on Facebook / KT press ebooks



@n_paradoxa

Copyright: KT press, 2017
Registered in London
Company no. 3492334
ktpress@ktpress.co.uk

n.paradoxa received support from the Andy Warhol Foundation for the Visual Arts (2012-2014) and
the Flo Art Foundation (2011-2012)
Feminism in the visual arts...

The print journal n.paradoxa
[ISSN 1461-0434] has published
500+ articles by or about
400+ artists and writers from
80+ countries in
40 vols since 1998

n.paradoxa online
[ISSN 1462-0426]
published 21 issues
(1996-2010)
online with different
content to the print journal
The last of these was the
n.paradoxa's guide to Feminist Art, Art History and Criticism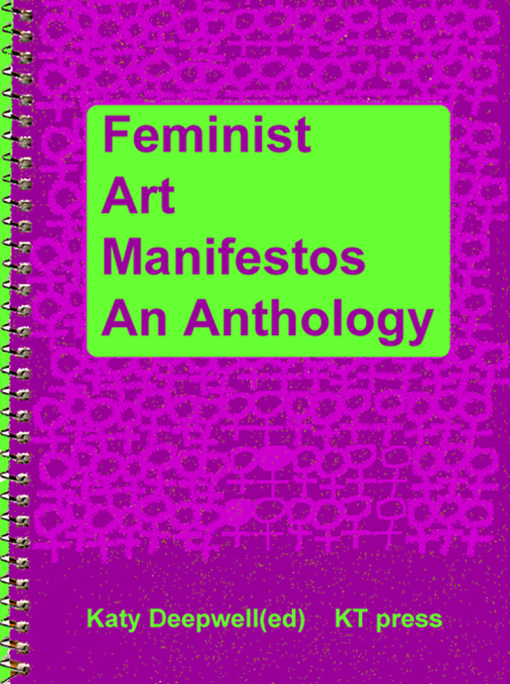 KT press ebooks
digital .epubs. Read on ipad, tablets, PC or MAC

Why not buy some volumes of n.paradoxa for a feminist friend as a seasonal gift? a birthday present?

Published volumes:
Ends and Beginnings
(vol 40, July 2017)
Organising/ Organisations
(vol 39, Jan 2017)
Polemics/ Contestations
(vol 38, July 2016)
SOUND?NOISE!VOICE!
(vol 37, Jan 2016)
Humour
(vol 36, July 2015)
War/Conflict
(vol 35, Jan 2015)
Lessons from History
(vol 34, July 2014)




Order Sets of n.paradoxa
international feminist art journal
Use this page to order all 40 volumes in print or sets of 10 volumes of n.paradoxa.

Price details are dependent on your postal address.
If you are ordering for a library or institution subscriptions, different rates apply, see below.

If you prefer to send a cheque or postal order in UK £ sterling, use our postal order form. 30% discounts only apply to online sales.

Please select from the following options for print volumes
Individual volumes in print can also be added to the cart.
30% discount is offered on all volumes from 5 Feb-31 March 2018
(These 10 volume sets in print are sold at a new 30% discount price and include postage).
I would like to purchase all 40 back volumes
or the following set of volumes:-
I am buying for a library/institution and
would like to purchase all 40 back volumes
or the following set of volumes:-

You will be asked to create a login using your current email and a password as part of the payment process. All purchases can be seen in the "my articles" page.

Payments accepted by visa/mastercard or through paypal and its credit card services online.
All prices shown are in £ pounds sterling. These prices include postage costs.

30% discount is offered on all volumes from 5 Feb-31 March 2018
| Prices for individuals | POSTAL | ZONES |
| --- | --- | --- |
| PRINT | UK/Europe | USA/Canada/RoW |
| All Volumes 1-40 purchased in print | £200.00 | £250.00 |
| Set of Volumes 1-10, 11-20 or 21-30 purchased in print | £60.00 | £75.00 |
| Set of Volumes 31-40 purchased in print | £60.00 | £75.00 |
| 1 volume in print at 30% discount | £6.00 | £8.30 |
| | | |
| Prices for Libraries/ Institutions | | |
| All Volumes 1-40 purchased in print | £280.00 | £350.00 |
| Set of Volumes 1-10, 11-20 or 21-30 purchased in print | £94.00 | £120.00 |
| Set of Volumes 31-40 purchased in print | £94.00 | £120.00 |
| 1 volume in print at 30% discount | £10.70 | £14.20 |
If you experience problems with payment or login, please contact: ktpress@ktpress.co.uk