VIEW or PURCHASE
n.paradoxa volumes
SEARCH ARTICLES
by country, author, title
or full text
DISCOVER
n.paradoxa's new MOOC
(a mass open online course). The 10 lessons of this course on feminism and contemporary art are free. Do the lessons at your own pace, anytime. Register and join.
SUBSCRIBE or PURCHASE
print and/or electronic



ORDER by post HERE
This site uses cookies
COOKIE POLICY
READ
n.paradoxa online archive
or RIP-OFF.2
or n.paradoxa's Guide to Feminist Art, Art History and Criticism
or n.paradoxa's feminist art salons
FIND
books on feminist art
feminist exhibition catalogues
feminist art anthologies
feminist art manifestos
feminist-art-topics project - lists 940+ artworks in 30 topics
magazines on women artists/ feminist art
or one-off special issues
1000+ MA/PhDs theses
feminist archives
statistics
timelines
links
feminist film festivals

WATCH
feminist art seminars
n.paradoxa/ICA (2011)
Local/Global Conference 2017
JOIN the JISC email list on Feminism, Art, Local/Global Research

RECOMMEND n.paradoxa for purchase to your University library

DOWNLOAD a poster for your noticeboard

READ
n.paradoxa's blog

nparadoxa on Facebook / KT press ebooks



@n_paradoxa

nparadoxa's MOOC (mass open online course)

n.paradoxa received support from the Andy Warhol Foundation for the Visual Arts (2012-2014) and
the Flo Art Foundation (2011-2012)
Copyright: KT press, 2017
Registered in London
Company no. 3492334
ktpress@ktpress.co.uk


Feminism in the visual arts...
n.paradoxa has published
500+ articles by or about
400+ artists and writers from
80+ countries in
40 vols since 1998,
plus over 1000 resources on the information pages
Search through
1000+ Feminist PhD/MA theses
If you wrote one, and it is not listed,
Add your own here
Current volume:
Ends and Beginnings
(vol 40, July 2017)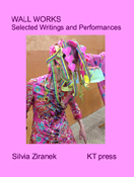 KT press ebooks
digital .epubs. Read on ipad, tablets, PC or MAC
Why not buy some back volumes or a gift subscription to n.paradoxa for a feminist friend as a seasonal gift? a birthday present?
Published volumes:
Organising/ Organisations
(vol 39, Jan 2017)
Polemics/ Contestations
(vol 38, July 2016)
SOUND?NOISE!VOICE!
(vol 37, Jan 2016)
Humour
(vol 36, July 2015)
War/Conflict
(vol 35, Jan 2015)
Lessons from History
(vol 34, July 2014)




n.paradoxa Feminist Art Salons
From March-December 2013, n.paradoxa organised 7 feminist art salons at monthly intervals at Beaconsfield in London.

A further one-off event was held in March 2014, linking London and Berlin.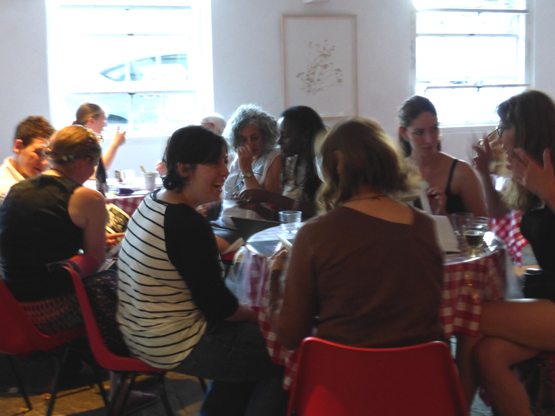 These evening salons were an informal networking and exchange event for women artists, writers, critics and curators who readily identify themselves with feminist art practices and wanted to discuss feminist ideas, recent and/or future opportunities and art projects.
Most artists brought their latest projects to show and then discussed issues and ideas arising from their practice or their situation.

Over the seven months of the salon, over 140 different women attended. Different people came to most events, including many contributors to the journal.
London-Berlin (a one-off salon, 15 March 2014)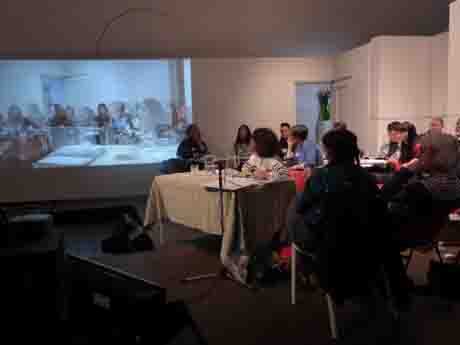 A special London-Berlin salon took place on Saturday 15 March 2014 for women artists, writers and curators.
This two hour event was held simultaneously at:-
London: Beaconsfield, 22 Newport Street, London, SE11 6AY
and Berlin: Sophiensæle, Sophienstraße 18, 10178 Berlin, Germany.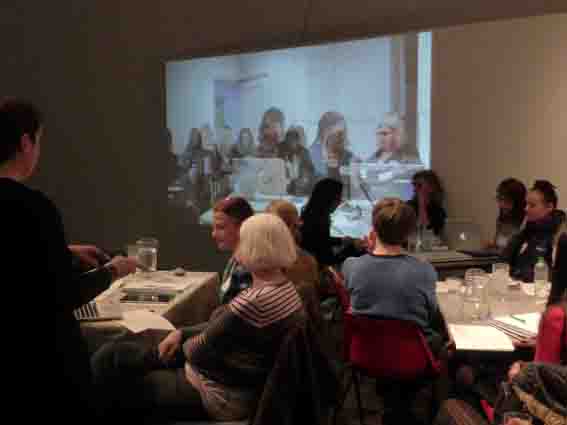 This feminist art salon involved a unique partnership between n.paradoxa's salon and ff group based in Berlin, with Beaconsfield. It was only possible because of the telematics setup created by Station House Opera for their performance Dissolved between Beaconsfield, London and Sophiensæle, Berlin, for three weeks in March. Station House Opera's event was organised by Arts Admin.
Around 35 women attended in London and Berlin. Participants at the London-Berlin event were able to connect on a TV projection screen linking the two venues. These two photos show the London site, and women in Berlin on the screen. The images of the women in London were combined with the images of women in Berlin on the projection system.

The editor of n.paradoxa, Katy Deepwell, as well as contributors to the journal were present in London and Berlin. Mathilde ter Heijne and other members of ff group were present in London and Berlin.

n.paradoxa is currently considering the future of its feminist art salons for 2014 and beyond.